Mia Gold - X Marks The Spot (2023 | HD) (1019 MB)
Lashed to a chair, stripped and spread wide, she squirms and strains against her bonds.
Her pussy has been worked over well, teased, denied and edged repeatedly.
A cloth and tape gag seals her mouth shut and metal nose hooks distort her face and pull it taught.
Horny and desperate to cum, she's willing to try anything for relief. She arches her back, straining her neck and thighs against the ropes.
In sheer frustration, she humps the dildo positioned between her thighs, trying in vain to bury it deeper into her cunt, in hopes it will be enough to flip her switch.
Even her thumbs are tied and she finds no amount of struggling will help.
It doesn't take long for her to learn to beg.
Header: X Marks The Spot
Date: 2023
Duration: 00:47:40
Quality: HD
Format: MPEG-4
File Size: 1019 MB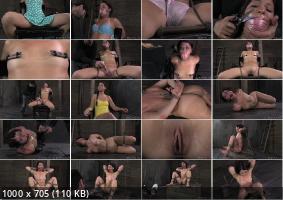 Download BDSM