Jeanette - Cinched and Secured – Chair Cocoon! (2020 | FullHD) (859 MB)
Jeanette was only too happy to help me out by modeling for my new web platform. She was also quite surprised to learn in was a bondage platform, and she was going to be the chief attraction! Welded to a chair in what seemed like miles of black tape, she was utterly fused to the furnishings, ensuring she'd always be available for a photo shoot whenever I needed it! Of course, developing a new platform is a LOT of work, and I need my silence, so I just had to pack her mouth full of old cloth before sealing it shut with even more tape! Now she'll always be at my beck and call!
Header: Cinched and Secured – Chair Cocoon!
Date: 2020
Tagged: BDSM, bondage, Chair Bound, Cinched and Secured, CinchedandSecured, Cocooned, Gagged Women, Jeanette Cerceau, Mouth Packing, Mummification, Sock Fetish, Struggling, Tape Bondage, tape gagged
Duration: 00:22:24
Quality: FullHD
Format: MPEG-4
File Size: 859 MB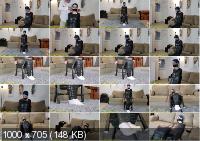 Download BDSM