Iona Grace - Stretched, Smacked and Spread (2023 | HD) (2.67 GB)
Every girl that comes to visit us at Infernal Restraints has the same thing to say. Metal bondage makes them feel more vulnerable, more helpless, and more horny.
Meet Iona Grace. She is a big tittied, fine piece of ass that feels exactly the same way. She isn't getting enough BDSM in her daily life. Her day to day sex isn't exciting enough. Well, we have got exactly what she needs.
It starts off with a warm up that would probably be too much for most girls. OT has her standing in the center of the room on a pair of high heels, desperately trying to keep her balance. He whips her, fondles her, and cuts away her clothing, all of the things that trigger her deepest fantasies and make her dripping wet.
Later, though, is when things get intense. Normally an inversion means a suspension. The position Iona is in requires a little bit more stability. Her arms are pulled up behind her, her feet are exposed to for a caning, and her pussy is just sitting there, neglected and dripping wet. It's exactly the kind of position she wants to be fucked in. She cums, and it is intense, but it isn't even the end.
When she's put back right side up she has her ass fucked by a metal cock until it becomes too much for her senses to handle. You can tell that her orgasms are getting more intense with each one because by the end she is squirting a mile every time she cums.
Header: Stretched, Smacked and Spread
Date: 2023
Tagged: Cam Damage, Double Penetration, Boob Cuffs, Caitlin Bell, Ball Gag, Blindfolds, Enema, Doggy Style, Basement, Domination, Dominant, Cage, Deeper, Anal Stretching, Dildo, Everything Butt, Codey Steele, Clover Clamps, Butt Plug, Cadence Lux, Ballerina, Blowjob, Fingering porn, Hot porn bdsm, Hard porn video bdsm
Duration: 00:54:15
Quality: HD
Format: MPEG-4
File Size: 2.67 GB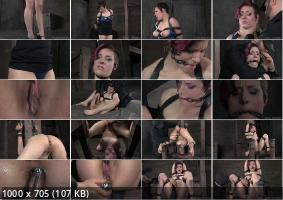 Download BDSM