Ariel - The One Bar Prison! (2022 | FullHD) (549 MB)
We did not put Ariel on the One Bar Prison yet?! Wow, that needs to change fast, she is perfect for it! This stunning girl needs to find out that it is really impossible to escape from a One Bar Prison (when wearing heels of course). Locked in a heavy collar, the curious Ariel approached the impaler. It had been fitted with the large 3-ball dildo. She was curious enough to insert it and get stuck, but when she realized it was impossible to escape, she did not think it was very exciting anymore. We had her up there for almost an hour before we gave her the tool to free herself. She was not amused!!
Header: The One Bar Prison!
Date: 2022
Tagged: BDSM, Ariel, Custom SteelBound Collar, MB590, metal bondage, MetalBondage, One Bar Prison - Custom Design
Duration: 00:05:01
Quality: FullHD
Format: MPEG-4
File Size: 549 MB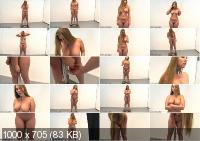 Download BDSM