Josie - Impossible back bend! (2022 | FullHD) (430 MB)
Can a girl be locked in a back bend like this? In metal? We weren't sure if it could be done, but if anyone could make a good attempt it would be the awesome Josie from the UK! She is flexible! Josie was doing a Chastity Deal for ChastityBabes.com anyway, so we had some time to kill with her. Her ankles locked to the pole, we tried to bend Josie far enough so her wrists (locked in the Space Cuffs) could lock to the top of the post. It is a very hard position! We could only do it for a short while, but she did prove it is in fact possible!! Amazing!
Header: Impossible back bend!
Date: 2022
Tagged: BDSM, bondage, Chastity Belt, Custom SteelBound Ankle Cuffs, Josie, MB581, metal bondage, MetalBondage, Space Cuffs, Steel Pipes
Duration: 00:03:56
Quality: FullHD
Format: MPEG-4
File Size: 430 MB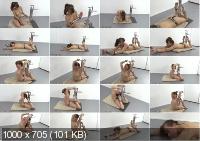 Download BDSM