The Blowjob Machine! (2022 | FullHD) (497 MB)
Time for a new invention! The Blowjob Machine! It might be an even better trainer than the spring loaded predicament! Darina Nikitina is the first one to try it: it is a fucking machine with a collar attached to it, instead of a dildo. The dildo is mounted a little higher, and Darina will be on her knees with her wrists and ankles locked so there is nowhere to go. She doesn't even have to do anything! The machine moves her neck back and forth and Darina is giving a blowjob whether she wants to or not. We can even regulate the speed of the machine, it will go on forever and Darina is unable to stop it, she just has to keep sucking!
Header: The Blowjob Machine!
Date: 2022
Tagged: BDSM, Blowjob Machine, Custom SteelBound Ankle Cuffs, Custom SteelBound Collar, Custom SteelBound Wrist Cuffs, Darina Nikitina, metal bondage, MetalBondage
Duration: 00:04:32
Quality: FullHD
Format: MPEG-4
File Size: 497 MB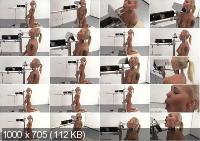 Download BDSM