A new One Bar Prison friend! (2022 | FullHD) (731 MB)
Remember when Nicole Vice and Cindy Dollar tried the One Bar Prison together? Well, Nicole Vice is back, and she brought a new One Bar Prison friend for support! Young Daphne is very inexperienced but curious, and she would never have tried this if Nicole wouldn't be with her. Locked in big collars, and wearing nothing but high heels, the duo is impaled on two One Bar Prisons. The challenge is to stand around until we come back to lower the dildos. But they don't know how long we will leave them there, with a cold metal dildo inside them and no way to escape! At least they have each other!
Header: A new One Bar Prison friend!
Date: 2022
Tagged: BDSM, Daphne, MB575, metal bondage, MetalBondage, Nicole Vice, One Bar Prison - Custom Design, One Bar Prison - Standard Design, Padded Medium Collar
Duration: 00:06:38
Quality: FullHD
Format: MPEG-4
File Size: 731 MB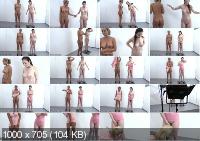 Download BDSM