Rain DeGrey - used hard and rough in all three holes! (2021 | HD) (1.79 GB)
Rain DeGrey has been around for a while and at this point her love of getting absolutely destroyed is fairly well known. She craves getting completely broken down and taken apart until she is can no longer recall her own name. This big breasted whore dives eagerly into the depths of sexually subspace as far and deep as she can possibly go. There is no better fit for a Sexuallybroken live show then an avid sensation slut like Rain. Rain is so keen to get going she is twitchy. The only thing to do to calm her down with a heaping serving of dick. We lash up those monster tits with some leather straps and bind her hands behind her. That is all it takes to completely render her helpless. We walk right up and run a train on her facehole. One after another the dicks sheath themselves balls deep into her open mouth. The grin dancing across her face shows just how far from sexually broken this bitch is. Time to step up our game. In a whirlwind of punishment, we brutally overload Rain. She is slammed to her knees and facefucked some more and then hauled up into a challenging strappado and bent over, exposing her pussy to a full serving of BBC. We take full advantage of that exposed hole. Her eyes start to glaze over and we are just getting started. Taking her down out of the strappado but leaving her arms bound, we lay her over a chair and take a fresh crack at those holes. We only use the pussy for a few strokes before moving onto the ass. 10 inches of massive manmeat sink home to the base, totally owning her ass. That cocky grin has left Rain's face. All it takes is some cock to reduce this slut to a babbling, crossed eyed mess. Rain is the living embodiment of cumdrunk. It doesn't take alcohol to fuck this bitch up, just a generous serving of top shelf dick. This is only the first scene and we have already plowed every one of Rain's holes. Repeatedly. Leaving her dazed and bound on the floor with her eager tongue out, we start getting ready for the next position. This cum slut is about to get totally destroyed.
Header: used hard and rough in all three holes!
Date: 2021
Tagged: BDSM, bondage, Rain DeGrey, Real Time Bondage, RealTimeBondage
Duration: 00:33:53
Quality: HD
Format: MPEG-4
File Size: 1.79 GB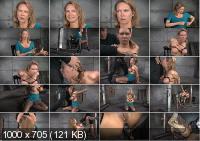 Download BDSM