Cinched, Secured - Nyxon's Session Goes Wrong! (2020 | FullHD) (861 MB)
Nyxon is incensed at your lack of respect. Not only do you show up late for your session, you fail to pay her the tribute she believes she deserves. She orders you to put on a pair of diapers and go to your room, but when you refuse, she can scarcely believe her ears. Turns out there are a lot more things ahead that she won't believe, like you binding her in tight ropes that hug every inch of her skin tight latex catsuit and her gorgeous blue boots, gagging her with a giant red ball gag, placing her in a strict chicken wing hogtie, exposing her fantastic tits, and leaving her bound, gagged, struggling and helpless as you assert YOUR dominance over the formerly proud, bitchy beauty! When will she be released? That depends on when she breaks, AND on just how merciful you're feeling!
Header: Nyxon's Session Goes Wrong!
Date: 2020
Tagged: BDSM, Ball-Gagged, bondage, boot fetish, catsuits, Chicken Wing, Cinched and Secured, CinchedandSecured, domme, Gag Talk, Gagged Women, Hogtied, Nyxon, rope bondage, Struggling, topless, verbal humiliation
Duration: 00:11:31
Quality: FullHD
Format: MPEG-4
File Size: 861 MB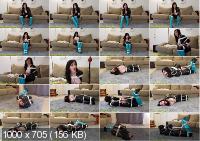 Download BDSM